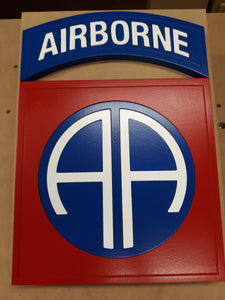 82nd Airborne Division Flush Inlay Handmade Wall Plaque 12, 18 or 24 inches
Regular price $75.00 Sale
12, 18 or 24 inch 82nd Airborne Division handcrafted wall plaque, carved in medium dense fiberboard, flush inlay and hand painted in the authentic red, white and blue colors of the "All American" Division.  This wall plaque will look great in your office, man cave or garage.  I also offer this model with the U.S. Army Ranger Tab, at an additional cost.
The wall plaques are designed with a 3/4 mounting board, which presents a suspended appearance from the wall.
 I do not stock the wall plaques, as this would be too costly to store. I begin crafting your model upon confirmation of your order, and it take around 7 to 10 days to complete.  You can expect your item to be shipped around that timeframe, or shortly thereafter.