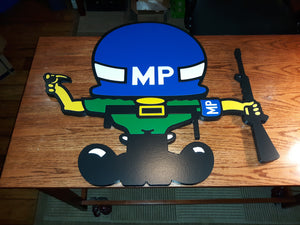 MP Helmet Guy 24 x 28 inch Handmade Wall Plaque
Regular price $145.00 Sale
Military Police (MP) Helmet Guy, 24 inch handmade wall plaque.  Modeled after the MP helmet guy sticker from the 1980s U.S. Army Military Police.
Crafted from 3/4 inch medium dense fiberboard, and painted in the same likeness as the aforementioned sticker.  Includes a one of a kind mounting system that projects the plaque 3/4 inches off of the wall, and presents a suspended appearance.
I do not stock the wall plaques, as this would be too costly to create and store. I begin crafting your model upon confirmation of your order, and it take around 7 to 10 days to complete. The length of time for production may be impacted by the number of orders received around the same time. I honor the order in which a products are purchased.